Thank you for joining us on August 15, 2019 for the


11th Annual Califa Vendor Fair!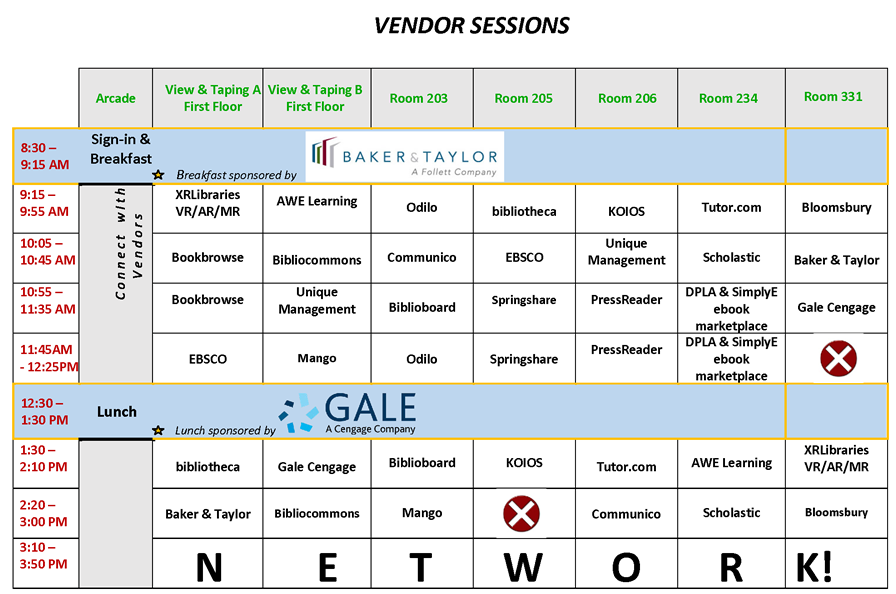 Our 11th Annual Vendor Fair will be held at the Santa Clara University Library on August 15, 2019.
Join us for a full day of in-depth demonstrations and an opportunity to learn about new products, updates, and share best practices with Califa vendors and other members. The day will be split into blocks of 40 minutes, during which time there will be up to 6 available demonstrations for attendees to choose from. Each vendor will have the opportunity to present at least twice during the day.
The Califa Vendor Fair is a free event!  Breakfast and sign-in will begin at 8:30 am with the first demonstrations starting at 9:15 am. Lunch and parking are also included. Both members and non-members are welcome to attend. The day will end at 3:50 pm.
 
Registered Vendors to date:
AWE Learning
Baker & Taylor
BiblioBoard
BiblioCommons
bibliotheca
Bloomsbury Digital
BookBrowse
Communico
DPLA (Digital Public Library of America)
EBSCO
Gale Cengage
Koios
Mango Languages
PressReader
ODILO
Scholastic Digital
Springshare
Tutor.com
Unique Management Services
XRLibraries (Xtended Reality: VR/AR/MR)
Directions to Santa Clara University
Driving: If you are driving, here is the link to the location on google maps. Turn left on Palm Drive and speak to the parking attendant who will direct you to the parking structure, where you will park on the third floor. When you come out of the parking structure, you will be behind the library, and it will be diagonal to your left.
From SFO: To reach the University from the San Francisco International Airport (SFO), take BART from the airport to the Millbrae combined BART/Caltrain station and then take Caltrain to the Santa Clara stop. When you exit the station, walk across El Camino Real to the main entrance of the University.
From San Jose Mineta Airport: To reach the University from Mineta (San Jose) International Airport, take the free VTA Airport Flyer (bus #10) to the Santa Clara Caltrain station. The Caltrain station is next to the University. The bus runs approximately every 10 minutes during daytime hours.
Hotel Information
For those traveling and staying overnight, we recommend the Candlewood Suites, directly across from the entrance to the University.
Taxi
If you need a cab to get back to the airport, Yellow Cab is a good choice. Their number is (408) 483-5370.
Vendor Shipments:
If you are planning to ship items (samples, marketing materials, flyers, etc) please ship them to the Califa office by August 9.
We will bring them to Santa Clara University the morning of the Fair. The address is:
Califa Group
330 Townsend St, Suite 133
San Francisco, CA
94107